Universal Studios Orlando
Action, adventure take center stage at Universal Universal Studios' Orlando theme park, a real working film and TV studio, offers an incredible array of rides, shows, movie sets and attractions that put you right in your favorite scenes from your favorite movies.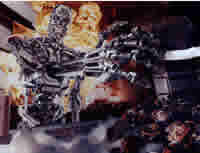 The Attractions Include:

Terminator 2: 3D -- Live-action stunts, special effects, and amazing 3-D film come together in this Terminator adventure. The short custom film features familiar faces from the Terminator movies. This 360 degree active film feature both live and recorded action as live actors come into the theater virtual enemies arrive and there is an epic battle right around you. Terminator 2: 3D is great for the whole family and is an experience that you won't forget.
Revenge of the Mummy -- Plunge into total darkness as you face fireballs, scarab beetles, and an army of warrior mummies on a psychological thrill ride. This indoor coaster features tight turns and quick stops. The ride features an Egyptian Tome that is cursed and your adventure awakens then ancient army that was meant to slumber for all eternity. Revenage of the mummy is best for Teens and adults who like roller coasters, and it is safe to say that this is a one of a kind experience.
MEN IN BLACK Alien Attack -- It's up to you to protect the Earth from aliens in MEN IN BLACK Alien Attack. As an agent trainee, you'll zap aliens as you chase them through the streets of New York in this high-tech ride based on the hit movie. This is one of my favorite rides; it keeps score as you shoot away at the hundreds of hostile aliens. It's great for family and friends, just be sure not to have the lowest score.
The Simpsons Ride –- What used to be Back to the Future The Ride has been turned into a unique simulation based on the Simpsons and their visit to the low-budget theme park Krustyland. During the ride 8-10 guests hope onto a motion simulator and buckle up as it is an exciting ride. The ride can move in almost any direction to give you the feeling that your falling or just going for a stroll through town. The Simpsons Ride is best enjoyed with family and friends.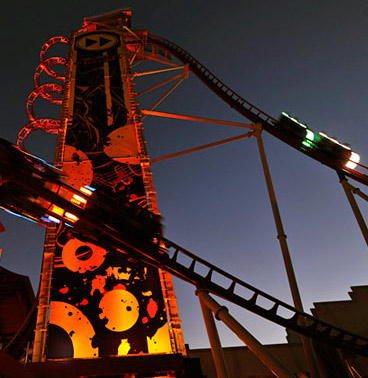 Hollywood Rip Ride Rockit –- The newest addition to Universal Studios this rocking roller coaster gets up to 65 miles per hours. It soars 17 stores over Universal Studios and has state of the art technology. The Hollywood Rip Ride Rockit features multiple video and audio recording opportunities during the ride. At the end offers an opportunity to turn your exciting coaster ride into a one of a kind music video that you can take home.
E.T. Adventure -- Can you help E.T. make it back home? Bring the kids and board your flying bikes as you soar across the stars to help E.T. save his home planet. No trip to Universal Studios is complete without venturing to the back of the park to take a ride to E.T.'s home world the Green Planet. This gentle ride takes you across the universe and back home. During E.T.'s Adventure the best part may be the one of a kind miniature city. Built specifically for the ride nowhere else where you find such a large and beautifully lite city scape.
Shrek 4-D -- Shrek and Donkey are back and they take you along in an all-new honeymoon adventure. This short 3D film with introduce you to the 4 dimension and not the time dimension. Shrek 4-D's theater is built with specially designed chairs make it feel as if you are in the film. Take a carriage ride with Shrek or a ride through the forest on horseback. Stay alert as during your adventure rats and hairy spiders are known to run under your chairs.

Twister… Ride it out – In the Mid-west twisters are just a part of life they take homes and lives. This Twister Ride however does neither. Themed off of the ever popular twister movie this ride lets you walk through a museum of Twister memorabilia and learn how they created the special effects in the movie. The main attraction however is the twister ride/show, in this even you file into a giant room where a life size country town is built with a gas station. Then you guessed it a twister shows up and wrecks the place. Experience strong winds, rain, explosions, and even a flying cow in this one of a kind Twister experience.