Feeling all the magic of an Orlando Florida vacation

The Orlando Tourist Bureau is here to help you get the most out of Orlando Florida. We are here to give you information on all the local theme parks such as Disney World's Magic Kingdom, Epcot, Animal Kingdom, and Disney Hollywood Studios. Here at the Bureau we have up to date information and savings to the amusment parks liek Universal Studios, Islands of Adventure and SeaWorld. Even if you are staying away from the parks we can help you with the area around downtown and along International Drive.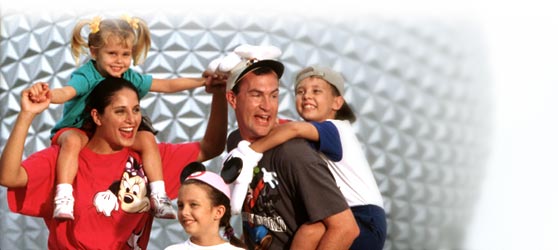 Use this site to plan a great vacation and to SAVE on accommodations at top hotels and resorts in the Orlando area. Save money on your next car rental at Enterprise Rental Cars. Use the list below, compare rates online
Check out a great selection of condos that provide all the comforts of home and are within minutes of Disney and other top Orlando attractions. Search for the best rates on car rentals in Orlando. Combine your Florida vacation with a cruise to an exotic port.
It's usually sunny in Orlando, but you can check the weather and then be sure to learn how to survive a day at a theme park, how to stay cool at the beach and how to maximize the fun on your Florida vacation.

Click and SAVE: Select a hotel from this list to see property information and amenities, rates and availability, for all Disney properties or to search all Orlando area properties. (NOTE: LBV is Lake Buena Vista, an area adjacent to Disney.)

Tourist Information

As one of the most visited entertainment venues in the world, Wald Disney World boasts some 30,080 acres of pure entertainment. Opening it's famous Magic Kingdom in the 1971, Disney World has grown to Four Major theme parks, two water parks, over 23 resort hotels, including six Disney Vacation Club poperties, several championship golf courses, ESPN Disney Wide World of Sports Complex and the exclusive Downtown Disney.

Albeit, Disney World continues to make a large contribution to the growth of the economy in Lake Buena Vista Florida by virture of employing over 62,000 Cast Members at a single site. These days, based on guest recommendations, Disney World continues to bring improvements one of which includes the completion of the all new value resort, Disney's Art of Animation Resort. The new resort appeals to the current trend of extended families offering 1,120 family suites themed around Disney animated classics including Finding Nemo, Cars, and The Lion King.