Lake City: 'Way down upon the Suwanee River'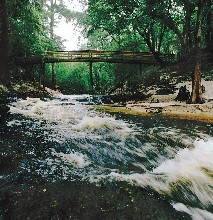 If you've ever wondered where "way down upon the Suwannee River" is, you'll find it right here in North Central Florida's spring-fed oasis of unscathed beauty. Sandwiched between the Suwannee and the Santa Fe rivers, this region lays claims to more than 100 springs, unadulterated wilderness, rich recreational possibilities, friendly river towns, old-time festivals and intriguing historical sites.


Lake City lies at the crossroads of Interstates 10 and 75, making it a convenient access point to the region. It offers the best variety of accommodations and restaurants in the area.

One soon leaves behind the rush of the freeway upon entering Columbia County, known as the Freshwater Capital of America. Just off the interstate, stop at the Columbia County Tourist Welcome Center and Florida Sports Hall of Fame, the state's official sports memorabilia museum covering everything from bowling to auto racing. The Columbia County Historical Museum resides in a circa-1870 home furnished in keeping with the period and displaying artifacts pertaining to local Civil War lore. Nearby, the Olustee Battle Festival reenacts an important battle each February.

Lake City is the gateway for canoeists, cyclists, bird watchers, campers, hunters, horseback riders and fishermen who make their way to the 200,000-acre Osceola National Forest and other park lands. The Forest's Ocean Pond Campground sits on the north banks of a blue water lake with a beach and boat ramp. A picnic area and sandy beach called Olustee Beach face it across the 1,760-acre Ocean Pond lake.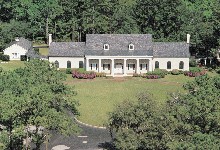 White Springs is home to the state's Nature & Heritage Tourism Center, which disseminates information on outdoor activities, and to Stephen Foster Folk Culture Center State Park. The latter maintains a Stephen Foster Museum and carillon tower that gongs out his famous compositions. All here is far removed from the "sad and dreary" world of which Stephen Foster, who never laid eyes on the Suwannee River, wrote. Its village of old-time craftspeople stages candle making, blacksmithing and such demonstrations, and every May the park hosts the Florida Folk Festival, along with 15 other annual special events. Once a health spa, White Springs tells its history in a downtown walking tour that takes in more than 20 vintage buildings and sites.

Nearby, Big Shoals Public Lands has the largest whitewater rapids in Florida. Here the Suwannee River rushes over rock shoals to create uncommon (for Florida) Class III rapids to dare intrepid canoeists. The setting flashes back to a time and pace when Timucuan and Creek tribesmen paddled the dark, tannin-tinted waters 'neath heavy forests filled with birds of many feather.

Downriver the paddling gets calmer, easy enough for beginners. You can get outfitted at Spirit of the Suwannee Music Park and Campground, near Suwannee Springs. It hosts country jamborees as well as horseback riders, canoeists, swimmers and other lovers of the oak-shaded setting.

Suwannee River State Park offers canoeing, hiking, camping and swimming in a secluded limestone sinkhole. It marks the transition between Upper and Lower Suwannee at the juncture where the Withlacoochee River branches off. Twin Rivers State Forest's trails overlook both waterways and furnishes primitive camping spots. Bluffs tower above the Suwannee at this point, where you can also spot remains of a Confederate earthworks from the water.


Live Oak is a typical North Central Florida hometown with a Saturday Farmers' Market, its namesake canopies of ancient oak trees dripping with Spanish moss, and historic buildings holding charming shops. The Suwannee County Historical Museum has pulled into the old railroad station and concentrates on the Cracker way of life. Peaceful back roads in this part of the state invite cyclists. Rentals and other biking facilities are plentiful.

Along the Suwannee and Santa Fe rivers, a number of springs attractions, both public and privately owned, invite visitors into the ever-cool, 72-degree waters for swimming, inner-tubing, snorkeling and diving. Here the land is supported by honeycombed limestone, which forms intriguing land features such as caves, sinkholes and rivers that seem to disappear and reappear without warning. The springs are a magnet for wildlife – fish, turtles, alligators, limpkins, herons and egrets – and ever since ancient civilizations of mankind, for humans as well.