Clearwater/St. Pete: Culture and the beach
Cosmopolitan cities, beach-blanketed islands and sunshine you can bank on: the St. Petersburg/Clearwater area has all that and more.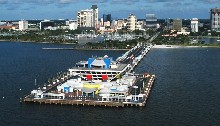 Big-city St. Petersburg boasts a waterfront downtown scene that pulses with energy. Center of attention, The Pier takes the futuristic shape of an upside down pyramid with a glass elevator to transport you from its ground-level fishermenís catwalks, boutiques and food court up to restaurants, a marine aquarium attraction, and a five-story view of Tampa Bay.

At the approach to The Pier sit two of St. Petersburgís superlative museums: the St. Petersburg Museum of History and Museum of Fine Arts. Other fascinating museums include the Salvador Dali Museum, Florida International Museum, Florida Holocaust Museum and Heritage Village.

Downtown boasts the domed Tropicana Field, home to the Tampa Bay Devil Rays, and BayWalk, an entertainment-shopping complex. Hotels in the downtown area range from Victorian B&Bs to the grand and historic Renaissance Vinoy Resort and Golf Club; restaurants, from an outdoors purveyor of smoked fish and a favorite breakfast joint marked by a giant chicken to houses of haute fusion. Visit St. Petersburgís charming waterfront communities Ė Safety Harbor and Gulfport Ė for more fun dining and shopping.

In its outreaches, St. Petersburg spreads an impressive blanket of green for outdoor enthusiasts. Two of its most outstanding recreational features include the 2.6-mile Friendship TrailBridge, the nationís longest over-the-water recreation trail, and Weedon Island Preserve, home to the Native American Cultural & Natural History Center.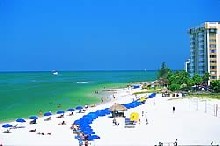 For the ultimate in nature and recreation, head to the islands that make St. Petersburg and Clearwater famous. This string of island pearls begins in the south with a couple of unhooked islands: aptly named Shell Island and Egmont Key, home to a wildlife refuge, a historic lighthouse and fort ruins. Its sister fort went up across the pass at todayís Fort DeSoto Park, occupying a handful of islands popular with shellers, cyclists and campers.

The history timeline takes up again on St. Pete Beach, home to The Don CeSar Beach Resort, playground of 1920s glitterati such as F. Scott Fitzgerald and Al Capone. The pink palace landmark welcomes travelers to the long island with its family-friendly beaches and hotels. Beach accesses are conveniently located and the action is always lively with watersports rentals and charters. Here is where to catch a boat to the un-bridged islands for a day of snorkeling and beach picnicking.

Next on the island roll call, Treasure Island is comparatively quiet and even more suited to family budgets. Johnís Pass separates Treasure Island from Madeira Beach and itís here youíll find the greatest concentration of fishing and boating charters. On the Madeira Beach side, assembles the salty shopping and dining district of Johnís Pass Village & Boardwalk. Itís a good place to hoist a beer and swap fish tales or enjoy the fruits of Johnís Passí reputation for grouper catches. Clock in during October for the annual Johnís Pass Seafood Festival.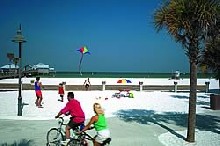 Communities in various degrees of casual and wealth string along north of Madeira Beach, with beach accesses, a fishing pier, miniature golf, hotels intimate to grand, and seafood houses to welcome visitors. The island ends at Sand Key Park, consistently named among the nationís best for its green spaces and extra-wide powdery sands.

From there a bridge takes you to Clearwater Beach, headquarters for beach volleyball competition and site of the nightly upbeat sunset celebration on Pier 60 with entertainers and crafts vendors.

Clearwater, across the causeway, hosts the largest free-admission jazz festival in the Southeast every October. The 47-mile Pinellas Trail, which begins in St. Petersburg, gives cyclists an opportunity to two-wheel through town, all the way through Dunedin and into Tarpon Springs. The Scottish town of Dunedin is known for its antiquing and twin island state parks of Honeymoon and Caladesi, both beacher havens.



Tarpon Springs claims the highest percentage of Greek residents in the U.S. Along Dodecanese Boulevard, sample authentic baklava, visit the sponge docks, take a cultural boat tour, and shop for sponges and real feta cheese.