Orlando Transportation Options


Orlando Discount Rental Cars|Enterprise Discount Rentals
Orlando is a big city but un like New York you canít walk everywhere. This is especially true if you are staying along international drive and around the theme parks. The cheapest method is taking the bus and trolley system, but that isnít always practical.

If staying at one of Disneyís hotels on their property there isnít much you have to worry about. They offer free rides to and from all of the parks at almost any time of day. But if you have to leave Disney property you at a dilemma, public buses donít come all the way into Disney hotels and taxies can be expensive.
The same goes for when you are staying at a hotel at Universal Orlando. There are free boat rides to get between the hotels and the attractions at CityWalk. The best way around to get around this is to rent a car for you stay. Enterprise Rent-a-Car has locations all throughout Orlando and the attractions. It is easy to get a car from Enterprise their staff is friendly and always willing to help they can even drop the car off and pick it up. If thinking of renting a car be sure it is from Enterprise and be sure to use our Enterprise Coupons.
If renting a car isnít for you then there are options with the busses and trolleys. City buses to Walt Disney World leave the downtown Orlando terminal between Central and Pine streets. Private shuttle buses also run between the main accommodation areas, the airport and Walt Disney World, SeaWorld and Universal Studios.
Along International Drive, between SeaWorld Orlando and Universal Studios, the I-Ride trolley service (407/354-5656) operates every few minutes daily from 7 a.m. to midnight.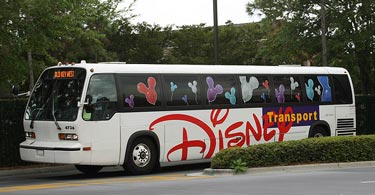 The international airport is nine miles south of downtown Orlando. Shuttle buses run from the airport to any hotel in the Orlando area. Buses and trains arrive downtown at the Greyhound terminal, 555 N. John Young Parkway, and the Amtrak station, 1400 Sligh Blvd.
Most hotels offer free scheduled transportation to nearby theme parks.
You can collect brochures and discount coupons at the airport's official information booth (daily 7 a.m.-11 p.m.).You also can pick up discount coupons and promotional offers at the Visitor Information Center, 8723 International Drive (daily 8 a.m.-7 p.m. (407/363-5872 or 1-800/643-9492).

And be sure to ask at your hotel about theme-park discounts and special offers. Many are able to get special discounts for their guest but other cannot if looking for Discount Disney Tickets, or Universal Tickets. Then be sure to check out greatorlandodiscounts.com where you can find discounted tickets to all your favorite theme parks