Busch Gardens Tampa Bay: Zoo with thrills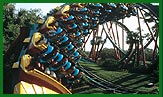 Busch Gardens Tampa Bay is listed among the nation's top four zoos. Besides exotic animals, Busch Gardens also features live shows and a variety of thrilling rides including Gwazi, the Southeast's largest double wooden roller coaster.
The Serengeti Express Railway moves through Busch Gardens' Serengeti Plain and affords riders the opportunity to spot free-roaming herds of African animals. For up-close encounters, check out Edge of Africa; Myombe Reserve and its Nairobi Animal Nursery; and Lory Landing in the Bird Gardens.

Mythical creatures and whimsy rule at Land of Dragons, where stage shows, slides, water play areas and elaborate jungle gyms can keep small children busy for hours. With several water play areas, it's a great place to cool off in the afternoon. (Bring towels and a change of clothes with you -– lockers are available -– or dress the kids with a swimsuit underneath regular clothing.)

Animal attractions
Soar over to the Bird Gardens area to check out almost 500 tropical birds from around the globe. These birds will amaze and delight you with their glorious colors and raucous calls.

You can enjoy the Wild Wings of Africa live show, see the aviary and experience the powerful presence of bald and golden eagles in Eagle Canyon. After the show, you can talk to conservation educators about how to attract birds to your own backyard.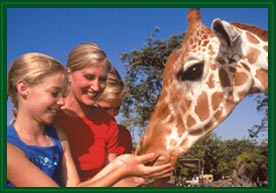 Have the most intense wildlife experience outside of Africa and immerse yourself in the culture of the African continent as you experience its majestic wildlife. Take a self-guided walking tour through a scenic habitat of hippos, hyenas, meerkats, vultures, a Nile crocodile, baboons and more at Edge of Africa.
The domed habitat showcases a variety of brilliantly-colored birds including several species of parrots. Lorikeets, hornbills, and pheasants also roam through Lory Landing's free-flight and observational environments.
Rhino Rally transports guests aboard an off-road adventure through the wilds of Africa. Guests experience a blend of up-close animal encounters with an unpredictable safari competition.
The Serengeti Plain features hundreds of exotic African animals that can be seen from the Serengeti Express Railway, Skyride, Serengeti Safari, and various walkways within naturalistic environments featuring rolling landscapes, elevated terrain and lush vegetation.
Enter the lush forest where gorillas and chimpanzees can be viewed in the naturalistic habitat of Myombe Reserve. Tour the Great Ape Domain amid waterfalls and through shrouds of mist and fog to get an up close look at these majestic primates.
While at the Clydesdale Hamlet be sure to meet Sprint the Donkey, whose dream of being a World-Famous Budweiser Clydesdale made him famous in a series of Super Bowl television ads.
Rides
Gwazi is Busch Gardens Tampa Bay's mammoth double wooden coaster. It is also the Southeast's largest and fastest double wooden roller coaster boasting more than 1.25 million board feet of lumber and over 2 million bolted connections. Named after a fabled lion with a tiger's head, Gwazi races riders through almost 7,000 feet of track and is two distinct coasters intertwined:
The Gwazi Tiger has an element that gives riders a slalom sensation more like a bobsled than a wooden coaster.
The Gwazi Lion's highlight is a seemingly continuous number of spirals.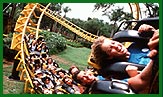 Encounter the swift-flowing white water of the Congo River Rapids. Spin through a geyser, face an ominous waterfall, and other thrilling obstacles in a 12-person raft.
SheiKra carries riders up 200 feet at 45 degrees, then hurtles them 70 mph back toward the ground at a 90-degree angle. It is the first coaster of its kind in the Americas and only the third in the world.


SheiKra is the first dive coaster to incorporate an Immelmann loop, a water feature, and a second 90-degree 138-foot drop through an underground tunnel. SheiKra also includes a 360-degree climbing carousel. 3,188 feet of steel track offers a total ride time of just over three minutes.
Feel the ultimate rush on Montu -- one of the tallest and longest inverted roller coasters in the world. Experience the thrill of an inverse diving loop and a 60-foot vertical loop while you endure speeds of over 60 miles per hour and a G-force of 3.85.
Experience the twists and turns of the Python. This thrilling roller coaster will make you scream through a double spiraling corkscrew and intense 70-foot plunge -- just for starters.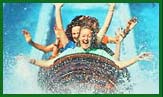 Cool off on Stanley Fallsers.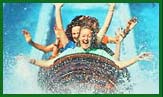 Cool off on Stanley Falls. A Log Flume whisks your whole family through a splashing trip ending in a 40-foot drop that's sure to get you soaked.
Watch out on the Tanganyika Tidal Wave when your seemingly tranquil jungle journey aboard a 20-passenger boat ends with a sudden plunge down a 55-foot drop. This creates an enormous wave that gets everyone sopping wet.
Shows
Pirates 4-D -- a swashbuckling 4-D comedy adventure for the entire family -- invades the Timbuktu Theater. Pirates 4-D, starring Leslie Nielsen, combines the latest 4-D special-effects technology with multi-sensory theater effects to thrill guests of all ages. Guests experience sprays of water and a shipload of surprises during their adventure with the sea's most hapless band of pirates.
Join Dumphrey the dragon, a dashing knight and a beautiful princess as they explore a world where flowers talk, mushrooms sing and new friends come in all shapes and sizes in Friends Forever.
KaTonga takes you on a journey to the heart of Africa in a 35-minute musical celebration of animal folklore. The show follows a day in the lives of aspiring storytellers, called Griots, as they strive to become masters of their craft.