St. Augustine: U.S.'s oldest city filled with history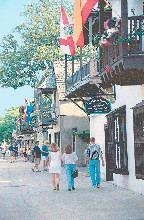 Step back in time to St. Augustine, America's oldest continually settled municipality, and feel as if you are caught in a delicious time warp. The town dates back to the Spanish conquistadores of the sixteenth century. Ponce de Leon himself landed here, looking for a sip of youth, they say, and by 1565, soldiers, their families and merchants were busily building a community of coquina rock, mortar and cypress wood. Colonial Spanish Quarter recreates the time, circa 1740. Costumed re-enactors authentically demonstrate cooking techniques, blacksmithing, candle-making and other crafts.



At Ponce de Leon's Fountain of Youth park, you can see the excavation of the actual stone cross Ponce de Leon and his men laid out in the sand upon reaching Florida shores. Have a sip of "youth" while you're at it. Can't hurt – look what it's done for preserving this town. Nearby, Nombre de Dios marks the first Spanish Catholic Mass and mission on American soil. Massive Castillo de San Marcos fort has warded off enemies for 300-plus years. Spanish soldier re-enactors still shoot off its cannons.

Despite fires and hurricanes, much of the original walled city remains in the restoration district. "Old" is highly revered here, where you can visit The Oldest House (1720), The Oldest Wooden School House in the USA (1763), The Oldest Store (1840), and the Old Jail (1891), mostly within the Old Gates of the Old City. Narrow, uneven streets in the 144-block Restoration Area lead to colonial architectural treasures holding gift boutiques, restaurants, pubs, ice cream shops, antiques shops, bed and breakfast inns and historic attractions. To tour it all, hop on a horse-drawn carriage, trolley or miniature train. Or walk the streets at night to experience the ghostly side of this spirited city. Other specialized tours explain St. Augustine's rich architectural heritage. It reflects the town's eras of occupation by later the British and colonial America. Railroad mogul Henry Flagler exerted the strongest architectural influence when he built magnificent hotels for his passengers to paradise.

The Lightner Museum, formerly Flagler's Hotel Alcazar, displays one man's collection of turn-of-last-century treasures, including Tiffany and other works of art glass. An antiques mall makes a splash in the hotel's remarkable old indoor swimming pool, a wonder in its day. Flagler's building boom also resulted in glorious churches demonstrating the Gilded Age-era predilection for imitation with exotic arches, towers, Byzantine spires, elaborate gold capitols and Mediterranean bell towers.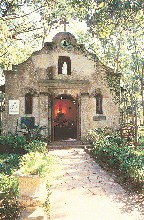 Other attractions around the Old City balance the historic with the modern in the form of contemporary theater, opera, art galleries, Potter's Wax Museum, Ripley's Believe It or Not! Museum and a chocolate factory. Restaurants range from a Spanish bakery that uses heirloom recipes to a modern microbrewery. Festivals celebrate the multi-faceted aspects of St. Augustine's past and present, including monthly art walk nights and annual costumed torchlight re-enactments of British occupation.

Outside the Old City walls, you will still encounter historic sites, along with St. Augustine's natural treasures and renowned golf resorts. Across the Intracoastal Waterway on St. Augustine Beach, St. Augustine Alligator Farm Zoological Park is the state's oldest (circa 1893) and a fun place to take the family. Then climb the 219 steps to the top of a 120-year-old black-and-white spiral striped lighthouse and visit its museum and have a picnic in the park nearby. The beach is home to Anastasia State Park, where beachers, fishermen and surfers gather. Fort ruins and putt-putt golf centers round out the attractions along this stretch of wide, hard-packed sand.

Scenic & Historic A1A Scenic Highway runs northward, bringing you to serious golfing territory. For decades, the resorts of Ponte Vedra Beach have given the area its reputation for professional and amateur golf. Ponte Vedra Beach Inn & Club was among Florida's first fine golf resorts, since 1928. The Marriott at Sawgrass is the official hotel of the Tournament Players Club and home of The Players Championship; it also hosts professional tennis. Mecca for the obsessed golfer (is there any other kind?), World Golf Village has it all –World Golf Hall of Fame, two celebrity-corroborated (Palmer and Nicklaus, Snead and Sarazen) championship courses, PGA Tour Golf Academy, an IMAX theater and a Renaissance Resort with its own virtual reality golf simulator.