Universal Orlando is Exciting for the Whole Family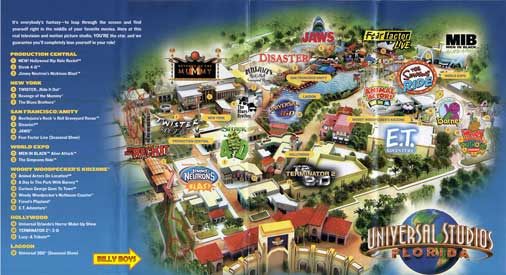 Universal Orlando consists of Universal Studios , Islands of Adventure, CityWalk and Wet 'n Wild.
The main attractions at Universal Orlando are islands of Adventure and Universal Studios. Both of which are world class theme parks with roller coasters and exciting shows for the whole family. These parks feature great rides themed after popular films like, Spider-Man, The Mummy, Harry Potter, Shrek, and even classics like Twister and Dr. Seuss. Universal Orlando is a great place to take the family if you want to have an exciting time at a theme park or enjoy some great food.
Where to stay?


The Orlando area offers hundreds of accommodations choices for your Universal Orlando vacation. If you stay on at a Universal Hotel, you have the advantage of free transportation among the parks and you can go back to your room for a rest in the afternoon and then return easily to the park in the evening. However, rates usually are lower off of Universal Orlando property.


Universal Orlando is home to an array of attractions, shopping, and great dinning. Experience Universal Studios, Islands of Adventure, and The Blue Man group, while shopping at one of a kind gift shops. City Walk has a collection of great restaurants like Hard Rock Café, NBA City, NASCAR Sports Grill, and Jimmy Buffett's Margaretville.
Universal Studios Rides – Is great for movie buffs as Universal Studios is the world's best TV based Theme Park. Guests of all ages will get to experience classic movie type rides like the Revenge of the Mummy, MEN IN BLACK Alien Attack, and the classic E.T. Adventure. No trip is complete without a trip across the galaxy on an 8 person bike; beware biking across the galaxy does get tiring.
Universal Studio Shows – For those of us who don't like or can't ride the coasters Universal Studio's offers a great selection of Live shows to choose from. For the younger crowd be sure to see "A Day in the Park with Barney or "Animals Actors on Location!" There are many other shows for the young and older generation like "Lucy – A Tribute" and The Blue Brothers. Do you remember the hit movie Beetle Juice well Univeral brought it back with all the stops making it a Rock 'n' Roll Spooktacular. , Backlot Tour, "Honey, I Shrunk the Kids" movie set, The Twilight Zone Tower of Terror, Rock 'n' Roller Coaster Starring Aerosmith and Indiana Jones Epic Stunt Spectacular.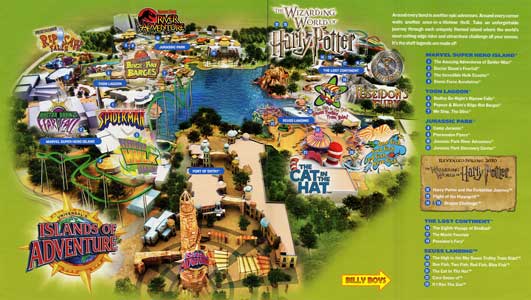 Islands of Adventure Rides – Islands of Adventure or IoA is great for the whole family however really exceeds with rides for big kids to adults with many different roller coasters and simulator rides. One ride you can't miss is the Incredible Hulk Coaster. This giant green ride takes you from 0 to 60 in a matter of seconds. IoA has the same movie theme that Universal Studios does with great rides from Spider-Man and The Cat in the Hat. But be sure not to miss out on IoA's newest attraction "The Wizarding World of Harry Potter". This area is filled with great shops and rides like Dragon Challenge.
Islands of Adventure Shows – Islands of Adventure doesn't have a many shows as Universal Studios however it does have a few good ones. For adults there is "The Eight Voyage of Sinbad" a life pirate show set in the ancient times that ships ruled the seas. There is also a one of a kind special effect show called "Poseidon's Fury" here you can witness an epic battle of two gods fought out on waterfalls in a beautiful cave.