Lakeland moves at slower pace in Central Florida
Highway 27 meanders through the heart of central Florida, and often its soul. The main thoroughfare starts off slow-paced and tempered with rural flavor in its southern extremes, then picks up the pace as it heads north, finally delivering you to the doorstep of Orlando's bustle. On its way, it passes citrus fields and processing plants, perfuming the air with saccharine-sweet blossoms and the wake-up smell of orange juice in the making. The towns that Highway 27 and its offshoots pass remember Florida as it was when glorious gardens, pristine lakes and classic roadside attractions made postcard fodder.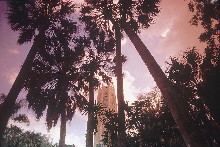 Lakeland,
located conveniently between Tampa and Orlando, has restored its downtown area, set off by historic architecture, lakeside parks and an inviting antiques district. But the town's most famous architecture graces the campus of Florida Southern College, designed by Frank Lloyd Wright in 1938. Wright conceived 18 structures for the campus, but only 12 were built, representing the world's largest single-site grouping of his work. The "Child of the Sun" Visitors Center displays photographs, furniture and drawings depicting Wright's relationship with the school.

At Polk Museum of Art, pre-Columbian art and a sculpture garden further the town's artistic temperament. Visit Hollis Gardens, which chronicles Florida horticultural history with neoclassical archways. For the edification of the children, Explorations V Children's Museum explores art, science, literature, math, health, life skills and global cultures. Aircraft buffs will enjoy the experimental planes on display at the Florida Air Museum at Sun 'n Fun, which hosts an annual mid-April festival. If you have the need for speed, enroll in racing classes at the local speedway.

Lakes and the ever-classic Cypress Gardens brought Winter Haven into existence as exactly what its name implies, an escape from cold-weather doldrums. The sight of blossoming gardens and young ladies in Southern belle garb has managed to accomplish the purpose since 1936. The garden attraction has recently undergone an update that has brought even more family excitement to the gorgeous lakeside setting, where water-ski shows make a big splash. The region is known as the Water-Ski Capital, thanks to its many lakes and Cypress Gardens' fame. A water-ski hall of fame honors the sport's late greats. Fishing, boating and other water sports also make use of the 23 freshwater lakes that surround Winter Haven. Canals interconnect 14 of the lakes. Baseball and golf are the other sports in town.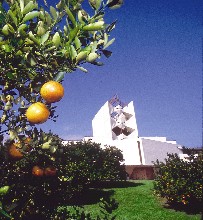 Lake Wales resides on the shores of another of the region's beautiful bodies of water and along a ridge that accounts for some of Florida's highest land. Iron Mountain reaches a towering (for Florida, anyway) altitude of 298 feet above sea level and is part of Historic Bok Sanctuary, a garden of floral beauty and bird-life richness. Its centerpiece, a 205-foot carillon tower, rings out classical harmonies every half hour. Dutch immigrant Edward Bok built it in 1929 as a show of appreciation for the beauty of his adopted homeland.

The town's museum occupies more historic structures with a vintage railroad car at its side. A vibrant art scene includes an art center and handpainted murals in its historic downtown district. Attractions in Lake Wales tend toward the slightly eccentric. Beside a singing tower, there's a haunted hill and Chalet Suzanne Country Inn & Restaurant, where quirky, doll-house charm and distinctive cuisine are signature. Get a taste of the town's citrus heritage at Florida's Natural Growers Grove House.

Before citrus, this was cattle territory. Cow hunters (they eschewed the term "cowboys") drove Cracker stock, remnant of animals brought here during the days of Spanish colonization, to the southwest for shipment. They lived a hard and often rowdy life, but profited greatly in the end. Re-enactors at Lake Kissimmee State Park play the part of these pioneer characters in a circa 1870 Cow Camp. Sit and share their tales over a strong cup of coffee in the company of long-horn steers. Then explore the natural beauty of the park and its fishing lake. There's a nearby ranch lodge where you can further explore your inner cowboy with horseback riding, rodeos, hayrides and a petting coral.