Cedar Key takes you back in time
On and around Cedar Key, Florida history moves in reverse. Once a thriving fishing and commercial port where pencils were manufactured from its namesake cedar trees, this island now boasts seclusion from the state's quickening pulse.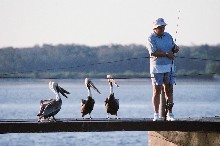 It gathers along with a dozen isles protected as the Cedar Keys National Wildlife Refuge and nearly another 100 small low-lying keys, tucked into the marshy coastline of Florida's affectionately dubbed Big Bend. Composed of shallow saltwater estuaries rather than sandy beaches, the island group provides the habitat of choice for fish of many varieties.
Once the pencil industry had decimated the cedar population, the region turned its economic attention to fishing and seafood remains its main industry, form of recreation and culinary offering.

The town of Cedar Key itself occupies Way Key, the only inhabited island of the chain. From there, you can catch charters or kayak out to some of the other islands to observe remnants of historic settlement –- a lighthouse and military installations –- and throngs of birds. The rookery at Seahorse Key hosts nesting brown pelicans, egrets, herons and ibis and is off-limits during the nesting season, March through June.

Cedar Key, which still looks like a frontier town in places, has developed a reputation for its artisan shops and seafood restaurants along Dock Street. Commercial fishermen farm clams, which have become a culinary icon. Artists and artisans fill galleries with sea-themed works. Every year the town celebrates its two specialties with an October Seafood Festival and an April Cedar Key Sidewalk Arts Festival.

Off the waterfront, quiet streets hold a historic inn, fishing cottages, B&Bs, modern condominiums, and Cedar Key Museum State Park, which looks back at the islands' eras of turtling, sponging, shipbuilding, fishing and pencil making.

Cedar Key lies at the end of a long road tethering it to a mainland shore popularly known as the Nature Coast, one of Florida's most pristine stretches, protected by refuges and jotted with small fishing villages.

Heading north from Cedar Key, you reach the mouth of the Suwannee River at the fishing hamlet named for it. Kayakers and houseboaters (rentals available in Suwannee) explore the river -– forested with pine, magnolia and cypress and populated with prehistoric creatures such as the alligator, the manatee, and the Gulf sturgeon, a frighteningly large fish that shows itself in violent catapults into the air. Along the way, they find seafood houses and time-stilled towns to discover. Scuba divers plummet the river's depth, particularly at the City of Hawkerville Underwater Archaeological Preserve, the wreck of a 1920's steamboat.

The Lower Suwannee National Wildlife Refuge preserves 52,257 acres and 250 species of birds around the Suwannee River. Upstream, you reach the first of many springs that feed the river on its journey to Georgia's Okefenokee Swamp. Manatee Springs State Park is a magical land of cypress and mammoth sea mammals. Swim in the ever-cool waters where the springhead forms a natural pool and pumps out 116.9 million gallons of crystalline water every day.

Scalloping ranks highly among the fishing pastimes along this coast. Recreational scalloping is in season during the summer and the fishing village of Steinhatchee reigns as bay scallop capitol. Scallop charters are easy to find and many restaurants will prepare your catch. The most well-known of the area's fishing communities, Steinhatchee accommodates its visiting sportsfolk in fish camps to the charming Victorian-styled Steinhatchee Landing Resort, which has brought the village its renown by hosting presidents and celebrities. Canoeing on the small Steinhatchee River, hiking trails, hilly biking, surrounding small beach towns, and friendly and flavorful seafood restaurants provide sightseeing rewards.



Off the waterfront, Highway 19 travels through historic hometowns and pristine parklands, crossing yet more unspoiled rivers with lyrical names such as the Waccasassa, Ochlockonee, Fenholloway and Wacissa. The Nature Coast State Trail paves 31 miles for walking, bicycling, inline skating and horseback riding, traversing Fanning Springs State Park and other wildlife management areas.

The greatest treasures of the Cedar Key and Steinhatchee coved coastline lie in the unique habitat created by the confluence of fresh and saltwater. It remains one of Florida's most closely guarded lands of raw nature and thrilling adventure on the water.