Fort Lauderdale: Where the Florida fun is
The fun in big-city Fort Lauderdale starts at the beach and spreads wide to a full slate of cultural, historical and social activities. Beach-blanket movies such as "Where the Boys" Are made Fort Lauderdale famous among the young decades ago. It has grown up now. Still a bustling center of sunning, watersports, nightlife and other happy goings-on, it also appeals to families and couples with a science museum, shopping, fine restaurants and beachside festivities.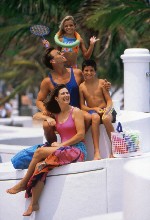 The beach action centers along Atlantic Boulevard and Beach Promenade, popular with walkers, cyclists and inline skaters. At its heart, Atlantic Boulevard meets up with Las Olas Boulevard, the chic strip for shopping and noshing. Poke around the edgy galleries and distinctive boutiques. Nearby Beach Place provides another festive shopping scene right across the street from the beach.

From Las Olas, walk over to the riverside Stranahan House, the city's oldest home, to learn about Fort Lauderdale's early days as a turn-of-the-20th-century Indian trading post. Continue then along Riverwalk, which skirts the New River as a linear recreational area perfect for strolling or cycling. Show up the first Sunday of each month for Jazz Brunch. The mile walk passes close to most of the city's best cultural and social fare: the Museum of Art featuring changing exhibits, Museum of Discovery and Science (hands-down one of the best hands-on museums in Florida), Fort Lauderdale Historical Society's Old Fort Lauderdale Village & Museum, and Las Olas Riverfront shopping, dining and entertainment district.

Riverwalk Park is also the place to catch a Water Taxi, which can drop you at any number of waterfront clubs, restaurants, shops and resorts; or take you sightseeing along the backyards of the rich and glitzy. Water is the way to go in Fort Lauderdale, known as "Venice of America" for its extensive system of canals and waterways. A number of tours specialize in fishing, sightseeing and nature-watching. At Christmastime, catch Winterfest, one of the first and grandest lighted boat processions in the state.

On land, experience nature in the area's wealth of parks and gardens. Bonnet House Museum & Gardens spreads 95 acres in the middle of town for swans, monkeys, orchids and other exotic plants. Two state parks offer an added measure of seclusion to the Fort Lauderdale beach experience. Hugh Taylor Birch
State Park occupies 180 acres between ocean and Intracoastal waters and provides canoeing and hiking opportunities in addition to beach recreation. South of Fort Lauderdale in Dania Beach, on the other side of the Port Everglades cruise ship port, John U. Lloyd State Park has rock jetties along the pass, great for fishing and watching ship traffic.

Butterfly World, in Coconut Creek, gives wing to fantasy with soothing gardens, lorikeets, hummingbirds, an insectarium and, of course, butterflies from around the world. In Davie, observe birds of prey and other rare species at Flamingo Gardens. Cooper City boasts the only banked bike racing track, known as a velodrome, south of Atlanta at its Brian Piccolo Park, a family mecca also for skateboarding, in-line skating, cricket matches and tennis.


Hollywood is home to the 1,500-plus-acre Anne Kolb Nature Center and Marina, a recreational dreamland with trails, canoeing, fishing and boat tours. Hollywood Beach presents a entirely different beach scene from Fort Lauderdale, with its so-called Broadwalk lined by beach shops and sidewalk cafes with a French-Canadian flair contributed by its wintering residents.

Between Fort Lauderdale and Hollywood, Dania is home to a children's hands-on art museum and the state-of-the-art IGFA Fishing Hall of Fame & Museum, where you can even reel in a virtual tarpon. Downtown is known for its antique shops. But the coliseum of shopping adventure in the area is undoubtedly Sawgrass Mills, counting more than 400 brand-name stores plus family play areas, restaurants, movie theaters and other attractions.

Head west for the old Florida side of things. At Sawgrass Recreation Park, jump aboard an airboat for a look at Everglades ecology. The Everglades is Seminole tribe territory. Learn about native culture at the fascinating Ah-Tah-Thi-Ki Museum (meaning "learn" in Seminole tongue) or on a swamp buggy adventure with Billie Swamp Safari.