Naples: Luxury on the edge of the Everglades
Pearly beaches, a wealth of top-notch golf courses, elegant resorts, cutting-edge restaurants and gorgeous shopping centers define the appealing escape from work-a-day doldrums that Naples volunteers. Like its namesake, Florida's Naples dresses in Italian style that reflects in shimmering images from the plethora of waterways that brings an element of adventure to its air of privilege and affluence. In fact, one doesn't have to wander far from Naples' storied streets to plunge into the wildest and rawest of Florida nature in the Everglades.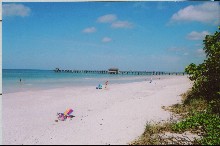 Small enough to feel neighborly, Naples boasts cultural and social resources that belie its size. Visitors get their fill of the arts at the Philharmonic Center for the Arts, home to Naples Philharmonic and Miami City Ballet; at the impressive Naples Museum of Art next door; at downtown's Sugden Theatre; and in the countless galleries scattered throughout town. In Naples' major shopping areas, the art spills out into the streets, particularly downtown in Old Naples. Fifth Avenue South is the main drag and it has made a name for itself with one-of-a-kind shops, hip sidewalk cafés and clubs, artsy festivals, and a verve that doesn't stop.

Third Street and the Avenues continues with more of the same wonderful street life and café society atmosphere. Gallery Row sells everything from glassworks by emerging artists to Old Masters. Pockets of shopping and dining glory collect throughout the town on different waterfronts, such as around the City Dock, the Waterside Shops at Pelican Bay and at Venetian Village.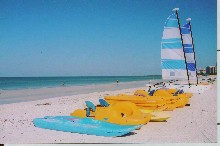 Just steps away from the shopping beckon beaches made for basking leisurely or trolling for seashells. At the municipal beach, the Naples Pier juts into placid gulf waters, a perfect place for sunset strolling or daytime casting. Lowdermilk Beach is family friendly with volleyball and facilities. Delnor-Wiggins Pass State Park remains in its most natural state, where loggerhead sea turtles nest in the summer and an observation tower surveys indigenous vegetation. Across the pass, Lely Barefoot Beach also combines the purposes of preserving nature and providing beach leisure.

Naples takes its role as nature warden seriously, and you can learn more about the environment at several attractions, including the Naples Nature Center, Corkscrew Swamp Sanctuary, and Rookery Bay Environmental Learning Center. All three introduce you to the area's rare and fragile Everglades-fringe ecology with aquariums, trails, habitat models and hands-on displays.

At its west coast access, the Everglades encompasses a world of wetlands, salt and freshwater marshes, and tangled mangrove islands. Several government refuges and parks protect the unique ecosystem, the largest being Everglades National Park, Big Cypress National Preserve, and Ten Thousand Islands National Wildlife Refuge. Marco Island heads the labyrinthine land known as Ten Thousand Islands and is the largest island of all. It is made of three communities; the main one, Marco, is most well-known for its wide-coved beach and the fine resorts that line it. It's also famous for its fishing charters, which earned it its reputation back in the rough-and-tumble days of pioneer settlement. At its eastern end, Goodland seems frozen in the commercial fishing era, and visitors love to come here for its funky, casual and sometimes crazy fish house restaurants. Its fishing charters take you into the fertile Everglades back waters.



Another place to hire a fishing guide is Everglades City, access point for Everglades National Park. Stop in one of the riverfront fish markets for stone crab at its freshest. Hop aboard an airboat or swamp buggy to see the Everglades as the locals do. The national park also offers narrated tours. Visit the historical museum, which chronicles the problem-fraught building of the Tamiami Trail across the 'Glades. Chokoloskee Island, a causeway drive away, spills more local history at its Smallwood Store, an old Indian trading post. These old-time fishing villages are the last vestiges of civilization as you head across Tamiami Trail, a.k.a. Highway 41.

Park lands surround the towns: Collier-Seminole State Park, which provides an easy introduction to this sometimes inhospitable environment; Fakahatchee Strand State Preserve, where the award-winning book The Orchid Thief and its spin-off movie Adaptation were set; Florida Panther National Wildlife Refuge, which protects one of the state's most endangered creatures; and Big Cypress, a massive preserve with back-roading, hunting, canoeing and hiking opportunities.