Lights, camera, Disney Hollywood Studios

At Disney Hollywood Studios, you can see the world of showbiz -- from the Hollywood classics of yesterday to the best in popular entertainment today. Take center stage as the star of your own adventure: from rock 'n' roll fantasy to Broadway-style stage spectaculars, from the silver screen to the TV screen to behind the scenes.
Hollywood Studio's Attractions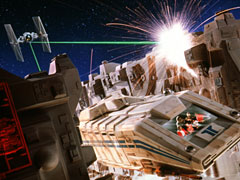 Star Tours - the ultimate Star Wars thrill ride -- The ultimate Star Wars thrill ride -- Board an intergalactic simulator for a turbulent trip through outer space. With an absent-minded droid in the cockpit, you're in for warp-speed near-misses, collisions with comets and high-flying excitement. Built around everyone's favorite pod racers you will be able to experience what the pilots might have during those daring races on the outer fringe planets. Watch out because just like in the movie the sand people may shoot you at, or you may be able to catch a glimpse of the beautiful Princess Leia. Star Tours is a great ride for anyone that is over 40 inches tall.

The Twilight Zone Tower of Terror -- Brave the creepy facade of a once-glorious hotel for a jolt back in time. Board a phantom elevator, shoot up 13 stories and brace yourself for a thrilling plummet. You rocket back up, only to plummet down yet again. The Tower of Terror is a Disney classic and a must ride. Each ride is unique and randomly generated by the computer to give you a new experience each time you hoop on the ride. The Tower of Terror is a fast pact ride for the thrill seekers in us all.

Rock 'n' Roller Coaster® Starring Aerosmith -- Aerosmith's having a backstage party across town and you're invited. Ready to brave the LA freeways? Zoom from 0-60 mph, take in high-speed loops and turns synchronized to a specially recorded Aerosmith soundtrack and zip through Tinseltown in the biggest, loudest limo you've ever seen. The Rock 'n' Roller Coaster is a special ride that you have to try. No other roller coaster will give you such a thrilling experience. Each coaster car has 125 speakers, 24 sub-woofers, and pumps 32,000 watts of power through them.

Toy Story Mania! -- This interactive carnival ride is great for the whole family. You and your family hop into a specially designed trim car outfitting with the ability to make quick 0 degree turns and fire a wide variety of carnival game items. Toy Story Mania will take you through a series of different games where you will be playing against your friends and family for the highest score. The adventure is led by all your favorite Toy Story characters, shoot virtual darts at 3D balloons, hit little green aliens with rings, shoot eggs at the farm animals, and everyone's favorites chuck baseballs to break fine china. This is a great ride that your whole family can enjoy time and time again.

Beauty and the Beast - Live on Stage -- Live on Stage – Every child loves the Beauty and the Beast story, it teaches that that no mater what they look like they can be loved. Disney has gone again and crated a musical of their hit movie. A 25-minute Broadway-style musical that up to 1,500 guests can enjoy at a time. The show is beautiful and it's a great opportunity to get out of the hot Florida sun. Be sure to keep an eye on your map and the time so you can get a seat for this one of a kind musical.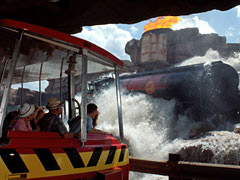 Disney Hollywood Studios Backlot Tour -- Have you ever wondered how that explosion was made? How the battle at sea took place? Well in the Studio Backlot Tour you will enjoy a 35-minute journey through the making of special effects. Start with a short show with guests taking place of characters battling at sea. After the battle you will get the change to walk through a prop warehouse where many historic Hollywood props call home. The tour ends with a ride on a 200-passenger tram that takes a wrong turn and you end up in Catastrophe Canyon where you will experience an earthquake, flood, and a huge explosion. The BackLot Tour is great for all ages.
Indiana Jones Epic Stunt Spectacular! -- Thrill to the pulse-pounding explosions, crashes, clashes and death-defying stunts of Indiana Jones' onscreen adventures. This 30-minute live show will take you through the many Indiana Jones movies and recreate some of the most popular stunt scenes in Hollywood history. The Indiana Jones Epic Stunt Spectacular is a show that you will not want to miss. There is even a 12-foot massive rolling bounder that trying to squash the cast.

"Honey, I Shrunk the Kids" Movie Set Adventure -- Growing up I watched these movies over and over again. Today while visiting Hollywood Studios you will get the chance to walk among a larger then life movie set. This kids play area is 11,000 square feet of pure fun. The set includes 30 foot tall blades of grass, some 40 foot tall bumblebees, and even a 52 foot tall leaking water hose that sprays water on guests!