Pensacola area: Beaches, military, nature, history

The Pensacola Bay Area blends the influences of outstanding beach, military intrigue, arts, nature and history to create a many-faceted destination where there's something for everyone.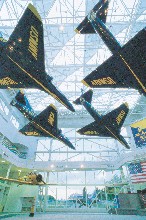 As Florida's original settlement, Pensacola's colonization predates St. Augustine by four years. Unfortunately the colony failed and only one single white cross atop a dune on Pensacola Beach commemorates Spaniard Tristan de Luna's attempt. Although it's not like the Pensacola Bay Area has a shortage of historic sites and buildings. Its importance as the capital of colonial West Florida and as kingpin
of Civil War strategy is remembered in great forts, downtown historic districts, a Civil War soldiers museum, and an annual Fiesta of Five Flags, which every June honors the town's various sovereignties: Spain, France, England, the United States and the Confederacy.
T.T. Wentworth Jr. Florida State Museum is gateway to downtown's Pensacola Historic Village, a collection of homes and buildings in various architectural styles from various eras. It occupies four blocks and also encompasses a museum of industry and a museum of commerce, as well as an archaeological trail. Upstairs, the Wentworth intrigues children with a Discovery Gallery.

Surrounding the historic village, downtown holds intriguing shops, trendy cafes, art galleries, museums, theaters and an energetic entertainment district that lend the town an artistic, youthful verve. To the north, residential historic districts preserve gracious old homes in Victorian and Georgian styles, one holding a family-style restaurant that's a favorite among locals. In the other direction, downtown meets waterfront.

The Pensacola Bay Area's strategic position at the mouth of a deep bay determined its fate as an important military post from day one. On the western point of Santa Rosa Island, home to today's Pensacola Beach, the U.S. built the mammoth Fort Pickens in 1830. Now part of a national park, its well-preserved ruins sit among the magnificent pure-white sand dunes and salt-dwarfed vegetation of Gulf Islands National Seashore. At Pensacola Beach's east end, more such surreal beachscape is preserved at a long stretch known as Santa Rosa National Seashore Day Use Area. In between, the town maintains a low-key profile with modern seafood restaurants, name-brand resorts, tidy beach shops, miniature golf and a couple of full-facility beach parks with watersports and fishing piers. One pier takes over the old bridge that once crossed to mainland.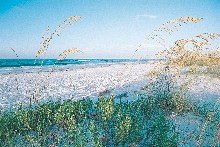 The town of Gulf Breeze lies between the beach and the city of Pensacola on a peninsula at the mouth of the bay. To the east, small town Navarre Beach crosses a bridge to Santa Rosa Island. A new state park opened recently across from the beach, where a 900-foot fishing pier is central to activities, acclaimed for its stellar spring catches. Gulf Breeze is known for its frequent UFO sightings and a zoo that families love. Also for families, Pensacola offers Dinosaur Adventure Land, a hands-on center with a prehistoric theme.

Pensacola's military bearing holds up to this day and the Pensacola Naval Air Station offers yet another attraction for kids and adults fascinated by military aircraft. The National Museum of Naval Aviation displays more than 150 specialized planes, plus simulator rides and an IMAX theater. Every November the Blue Angels Air Show blasts off into skies above. On campus you'll also find the ruins of another early fortification. While Yankees occupied Fort Pickens across the bay during the Civil War, the Confederacy took control of Fort Barrancas here.



Still more fort ruins lie on Perdido Key Beach, an out-of-the-way island that meets up with Alabama at the famous Flori-bama Lounge. Here you can take a long, secluded shoreline stroll along the deserted, powder beaches of another part of the National Seashore. Just off the island, Big Lagoon State Park harbors 698 acres of coastal ecology where gray foxes, nuthatches and cardinals live.

The Pensacola Scenic Bluffs Highway leads northward out of town to Milton, often hailed as the "Canoe Capital of Florida." Here the Coldwater, Blackwater, Sweetwater and Juniper waterways make canoeing, kayaking, rafting, paddle-boating and inner-tubing favorite summer pastimes. The Blackwater River is especially loved by paddlers for its white sand bottoms and beaches. Camping and biking facilities are also available.