Palm Beach: Home of the rich and famous
North of Fort Lauderdale, the coast continues with a stimulating metropolitan dynamic, but the level of exclusivity, wealth and cultural offerings jump up a notch. Perhaps that's how it earned its nickname as the Gold Coast. Or perhaps it's the golden sands that line 47 miles of beach.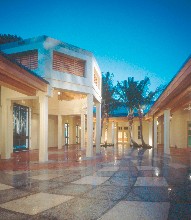 Palm Beach, in the center of all this, epitomizes the social climate as a centuries-old playground of the rich and celebrated. Ever since railroad mogul Henry Flagler brought his railroad to town and erected fabulous hotels for his passengers, the town has been synonymous with luxury. One of the favorite pastimes for modern-day visitors is to simply drive around the island and gaze at the magnificent mansions, then head to one of its landmark restaurants to try and spot a star or government somebody.

For a succinct picture of the wealth that wrought this kingdom visit Whitehall, Flagler's Gilded Age mansion and monument to opulence. Downtown Palm Beach, along famed Worth Avenue, is celebrated for its Mediterranean-style architecture and fabulous shops. Theaters, museums and galleries create an aura of high-brow culture that continues onto the mainland at West Palm Beach.

Once the residential area for Palm Beach's work force, West Palm today has developed a distinctive personality all its own. Its downtown Clematis Street District keeps lively with jolly clubs and restaurants, shops and street festivals. Norton Museum of Art sets a high standard for the artistic and for families, there's a nice-sized zoo, a hands-on science museum, and, on the western edge of town, Lion Country Safari, where visitors drive through while lions, elephants, giraffes and other African animals run free.

Inland and to the north, the region offers two other great attractions. First, the Loxahatchee National Wildlife Refuge protects the native animals who thrive in an Everglades environment. A different breed thrives on the unparalleled selection and quality of golf courses for which the Palm Beach area is highly touted. Great resorts and clubs host PGA pros and tournaments, and just regular folks who love to golf year 'round.

As you head north, Palm Beach County adopts a stronger environmental consciousness in parts that were later developed. Peanut Island preserves a nature sanctuary in the middle of the Intracoastal Waterway, along with a bunker that was built for President John F. Kennedy, whose family owned a home on Palm Beach during the Cuban missile crisis. John D. Macarthur Beach State Park is an example of pristine shoreline, with a nature center and environmental programs to keep it that way through education. In Juno Beach, Loggerhead Park and The Marinelife Center of Juno Beach are committed to nesting sea turtles during the summer months and host turtle walks and exhibits. In Jupiter, fish at the jetty beach park, catch a charter for deep-sea fishing, visit an art museum, and climb the 1860 lighthouse.


Jupiter Island and Hobe Sound become yet more withdrawn from the metropolitan world and more entrenched in the natural. Environment's champions include Blowing Rocks Preserve, Jonathan Dickinson State Park and Hobe Sound National Wildlife Refuge, which conducts late-night sea turtle patrol walks to look for and mark nests.

South of Palm Beach, the beachfront stretches to encompass a litany of upscale communities new and old including Lake Worth, Manalapan, Boynton Beach and Delray Beach. Even the scuba diving in these parts is upscale, including the "wreck" of a Mercedes-Benz. Luxury name-brand resorts grace these privileged sands, along with some small inn gems. Delray Beach, in particular, exudes yesteryear charm that shows in its accommodations as well as its downtown shopping district and new cultural loop. Its Delray Affair festival celebrates its strong sense of community. On its outskirts, the history of its Japanese immigrant population is told at The Morikami Museum and Japanese Gardens, a superbly serene oasis. A developing orchid garden nearby provides still more sanctuary for the soul.

This road to riches ends at Boca Raton, a beach community with much to offer families as well as lovers of the fine pleasures of shopping and dining. Visit the Gumbo Limbo Nature Center, Coconut Cove Water Park, Little Palm Family Theater and Children's Museum. Try Mizner Park shopping and Boca Raton Museum of Art for something more grown-up.