Orlando Dinner and a Show
Orlando is filled with great resturants but so is every other city in the U.S. What really makes Orlando stand out is the Dinner Shows. Like Pirate's Dinner Adventure, Arabian Nights, and Medieval times these shows deliver first class entertainment and delicious food all at the same time. Don't have another dinner on the vacation but have a night to remember with your family. Give them a memory that they won't soon forget.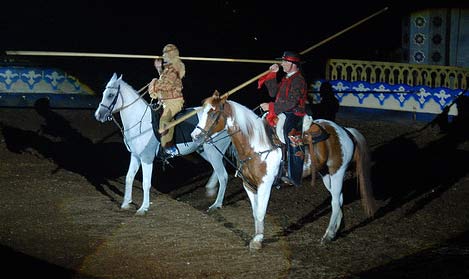 Pirate's Dinner Adventure: Pirates are awesome… well that's my opinion at least and when you combine pirates and food you can't go wrong. The Pirate's Dinner Adventure brings you back in time to the days where pirates ruled the sea. With stadium style seating around a 300,000 gallon indoor lagoon and a 50-foot pirate ship. Pirates serves a feast fit for a king with a 3 course meal that begins with a delicate garden salad and ends with a heavy serving of Apple Cobbler a la mode. The main course is Treasure's Chicken with Pillager's Port. This meal is one of the best you will have in Orlando rivaled only by the other dinner shows that Orlando Offers. The show is one of a kind with an array of stunts and action it dazzles you and draws you in but then there is romance and comedy to keep you interested.
Arabian Nights: Advertised as Orlando's number 1 dinner attraction Arabian Nights is a spectacular show. With some of the best trained houses in the south east Arabian Nights brings you back in time to a period where houses were the cars of today. These Houses are the top of their class and show it off through the entire show, performing amazing feats and differing types of walks and trout's. The Show is an hour and a half and during the show you will see pretty much everything a horse can do. If it can be taught to do it, they have. From jumping through flaming hoops to walking on 2 legs. Now for the tasty part the food, Arabian Nights offers a few selections for dinner and they are Chef's Selection- Pot Roast on Pastry Puff, Sirloin Steak, Pulled Pork, Roasted Chicken Quarter, Adult's Chicken Tenders, and Creamy Vegetable Lasagna.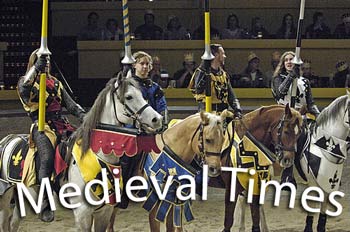 Medieval Times: Just walk up to this castle and don't worry no one is going to shoot arrows at you, all is welcome at this one of a kind dinner show. This is almost like a combination of both Arabian Nights and Pirate's Dinner Adventure. Here you still see great feats of strength as knight's joust and fight against one another, but you will also see great Horses that have been trained to perform and react to the crowds cheering. As you enter and sit down before the show you will be given a knight to cheer. There are 6 knights and each one has a equal chance to win the hand of the fair princess. This is show is a full fledge competition for the hand of the princess and it even has an evil black night that tries to push out the competition. This is a very interactive show as the knight will come up to the walls and hand off flowers to the fair ladies that come to watch them. The mal is also one of a kind here with half a chicken, a spare rib, and Herb-Basted potato's the main course is fit for the king. The three course meal also contains Tomato Bisque Soup, Garlic Bread and a pastry for desert. I grantee you won't go hungry from this event.