Destin, the world's luckiest fishing village
Sand just doesn 't get much whiter than this, and that's only the beginning of what's so special about this well-loved band of Gulf of Mexico beachfront dubbed the Emerald Coast. The water is bright green, the dunes are lofty, the fish are plentiful, and the excitement doesn't quit. For families, for lovers, for anyone, this is the superlative in Florida beach vacationing. Book a room in a beachfront bed and breakfast, a marina motel, a rental condo, or a name-brand hotel. Then grab your fishing pole.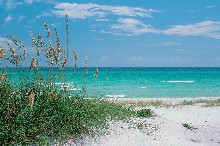 Destin earns its name as the "World's Luckiest Fishing Village" by virtue of its famed emerald Gulf shore – deep and inshore waters that hold enough sailfish, grouper, mackerel, cobia, tarpon and wahoo to inspire an extensive fleet of fishing charters, a bevy of tournaments (including the October-long Fishing Rodeo), and a glorious selection of seafood restaurants. With the speediest deep-water access to the Gulf, Destin claims more billfish catches annually than any other Gulf port and up to four times more fish species than most other destinations.

In addition to fishing, tour and glass-bottom boats take you sightseeing, snorkeling, diving, sailing, spotting dolphins and more. You will find them lined up along the harbor in front of seafood restaurants heavy on character, light on the budget.

Turn the kids loose on the beach at Henderson Beach State Park or James W. Lee Park at the eastern end of town, off main drag Highway 98. The luxurious softness and incredible whiteness of the sand make these beaches stand out. They are created from pulverized quartz washed, buffeted and delivered by river sweep all the way from the Appalachian Mountains. The sand's quartz origins contribute to the sparkling brightness and to the way it squeaks when you walk on it.

When the kids have turned the right shade of pink, head to one of the amusement parks that further the region's reputation among families. Big Kahuna's Water & Adventure will grab their attention, and it's perfect for day and night play with its shipwreck-themed water park, miniature golf, go-karts, food concessions, and other kiddie rides and adrenaline attractions. For grown-up fun, there are highly acclaimed golf courses for all levels of expertise.

The Destin Bridge crosses East Pass to Fort Walton Beach, an older beach community with lots of affordable resorts and family pastimes. To get between the two towns, you pass through one section of Gulf Islands National Seashore, a dramatic landscape of drifted blinding white sand that often puts northern visitors in mind of snow. On the Seashore's bay side, a public access makes a popular recreational spot for boaters, waterskiers, waverunners and parasailers.

Beach shops, lively bars, go-kart tracks, batting cages, amusement parks, watersports concessions and beach accesses line the beach's main drag on Fort Walton Beach's Okaloosa Island. The Boardwalk is an energetic center of activity with restaurants, clubs, the town's fishing pier, beach volleyball and the classic Florida's Gulfarium, entertaining families with flipping dolphins and comical seals since 1955. The island road ends at the entrance to Eglin Air Force Base, inaccessible to civilians.



On the mainland, separated from the island by the wide and beautiful Choctawhatchee Bay, Fort Walton Beach's livelihood as a military town becomes more evident, especially at U.S. Air Force Armament – all about weapons and aerial fighting machines. Downtown comprises a few square blocks along the bayfront with perky little shops, a hometown park, a 17-foot-tall Indian mound and accompanying museum, and the Emerald Coast Science Center, a hands-on haven for kids.

In addition to Destin's annual fishing contests, the area hosts more than 100 festivals each year, many focused on relishing seafood. The annual Billy Bowlegs Pirate Festival celebrates Fort Walton Beach's swashbuckling past during June. The spring and summer months are liveliest along the Emerald Coast, one of the South's favorite family playgrounds, where the days are as carefree as a childhood memory.