Universal CityWalk Orlando
CityWalk is known for its direct relationship with Universal Studios and Islands of Adventure. But, CityWalk has a lot to offer its self, with great dinning, live music, and one of a kind entertainment.

Entertainment: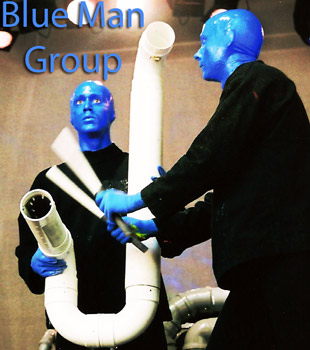 Blue Man Group: No visit to Orlando is complete without going to see the Blue Man Group. This group of nearly identical Blue men performs incredible feats of agility and combines it with one of a kind instruments made from whatever household items they can find. Pair loud music and drums with an assortment of neon paints and blue men and what do you get? Well, a high energy live show that will leave you laughing all night long and wanting to come back again. Another interesting fact about this show is that they don't talk. The Blue Men never speak, they use props and signs when necessary or have a voice over narrating to get their point across but I can never remember them speaking. Be ready for the big finale because there is always something spectacular at the end. O yeah and beware there is a splash zone for the numerous colors of paints used in the show.
Hollywood Drive-in Golf: Are you tired of that pirate or downed-plane themed mini golf course? Well Hollywood drive-in Golf at CityWalk will be just for you. Themed like a 50's drive in Movie Theater this golf course is filled with 50's silly sci-fi horror. This mini golf sports 36 holes, two 18 hole courses both different and equally entertaining. It's great for the whole family and even the youngest members of your family or friends will find the silly monsters funny and not scary.
AMC Universal Cineplex 20 with IMAX: Sure your thinking a movie theater is a movie theater, but no not this one. The AMC at CityWalk has 20 screens and one of which is a Giant IMAX screen. This IMAX screen completely immerses you into the movie filling all of your senses with color and life as the movie takes place in front of you. The Screen is nearly 3 stories high and even longer wide. All of the Cineplex's movie theaters use a digital projector to give you better then HD quality, combined with a huge digital surround sound system you can literally feel the movie in your seat.
Live Music:
Hard Rock Live: This venue is one of a kind and themed as a Coliseum of rock n roll. This venue is always being filled with fans of up and coming artists as well as stand up comedians. It has the option of having a huge dance floor or a large citing area depending on the event going on. It can seat up to 3,000 making it good for almost any event. Hard Rock Live also does skimp on their tech, with state of the art audio and visual It boasts of being the top venue in the area.
Hard Rock Hotel Velvet Sessions: While we are on the top of Hard Rock we might as well bring up Velvet Sessions. This is a once a month even that you don't want to miss out on. Located at the Velvet Bar in the Hard Rock hotel, it hosts Orlando's only rock n roll cocktail part. The Party is on the last Thursdays of each month. Each session includes a different theme and special live bands admission stats at $29 online and $35 at the door but includes free drinks from 6:30 to 8:30 before the live music starts. If you are in the area be sure to check out this awesome party.
CityWalk's Rising Star: Like no other karaoke bar you have ever been to Rising Star is a one of a kind venue where you take to a full size stage with lights, a band, and even backup singers. With only a $7 cover this is a great bar to hop into. The live band is there every day except for Sunday and Monday which features only backup singers and a recorded track, Sorry the bands needs a weekend too. Rising Star is a great place to take your friends for their birthday or another celebration be sure to let the hosts know and they will make sure you have a great night.

Dinning:
Hard Rock Café Orlando: This is the largest hard Rock Café in the entire world, and it sports the best chefs from all its restaurants as well. The Hard Rock Café is a great dining experience with tons and tons of Rock 'n' Roll memorabilia and history on the walls you will constantly be looking around to find something special on the walls. With entrees ranging from delicious burgers and salads to savory steak, the Hard Rock Café will have a little something for everyone. Meals range from $10 to $35.
Emeril's Restaurant Orlando: The prized food network stare Emeril has come to CityWalk. His restaurant features Creole inspired dishes combined with attitude. Some of his more flavorful dishes include "Fresh Louisiana Crawfish Flatbread with Capicola ham, Aged Gruyere Cheese, Rapini and Spiced Creole Tomato Glaze." The Restaurant also boats a 12,000 bottle wine collection, a cigar bar, and even an aperitif bar.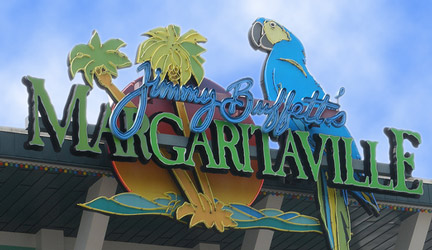 Jimmy Buffett's Margaritaville: This is perhaps my favorite restaurant at CityWalk. With a laid back atmosphere and live music it's just a great place to come relax and have fun. The Restaurant was designed after Jimmy's favorite waterfront concert in south Florida. It features 3 bars and a huge volcano which erupts with Margaritas ever so often. Each night there is a life band to make it a great dining experience. If you are feeling something a little quieter then look to taking a seat outside and listening to an acoustic gaiter and sing along to classics all-night long. Margaritaville features true Florida cuisine featuring fresh fish tacos, Key Lime Pie, and of course the Cheeseburger in Paradise.
This is a just few of the options that CityWalk has to offer. There are many more options to entertainment and Dining. To check it all out the only option you have is to come and visit each one take a walk around CityWalk and enjoy the many shops, live Entertainment, and first class food.