Join the fun at SeaWorld Orlando

SeaWorld Orlando is the world's premiere marine adventure park with 200 acres of world-class shows, thrilling rides and unforgettable animal encounters.
SHOWS
At the heart of every being lies a spirit of wonder. Feel it come to life in Believe a visually stunning new Shamu show that transports your heart to the edge of wonder.
The wonders of the sea come to life with a breathtaking, mystical show at SeaWorld's Nautilus Theater. Odyssea is a non-traditional circus that combines high-flying acrobatic performances, delightful comedy, whimsical costumes, dramatic music and fantastic special effects within a spectacular set themed as an underwater fantasy world.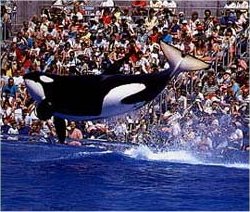 Venture beyond the horizon in an experience that takes you into a world of acrobatic dolphins and whales, soaring birds and leaping water with a spirit all its own. Blue Horizons -- an all-new dolphin theatrical performance about the place where sea meets sky.
Pets Ahoy! is a hilarious show featuring the talents of a menagerie of dogs, cats, birds, rats, skunks, pot-belly pigs and other animals performing a series of uproarious -- and amazing -- skits. At the end of every show, guests have an opportunity to meet some of the animals and their trainers.
Attractions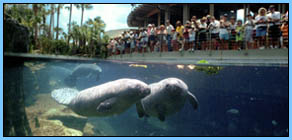 Visit Manatee Rescue and immerse yourself in the underwater world of the Florida manatee. Manatees who live in this habitat were rescued by SeaWorld. Often, Manatee Rescue becomes a manatee halfway house, where these endangered animals receive care before being released back into Florida waters. From above the water and below, explore the lush lagoon inhabited by these social sea cows. Discover how manatees inhabit the environment and learn how to help save these gentle giants from truly being the last generation.
Cavort with California sea lions and harbor seals as they climb, dive, swim, snooze and surf at Pacific Point Preserve. This 2-acre naturalistic setting is a re-creation of the spectacularly rugged northern Pacific coast beaches and grottos.
Experience SeaWorld's slice of the Antarctic, the Penguin Encounter, while a 120-foot-long moving walkway transports you through this frozen wonderland. You can see more than 200 penguins -- including Rock-hopper, Gentoo and King -- and three species of flighted birds as they jump, slide and dive both above and below the water.
Travel through the world's largest, underwater acrylic tunnel and find yourself just inches away from dangerous predators in Shark Encounter. Slithery eels, frightening barracuda, venomous fish and toothy sharks make their home in this coral reef habitat.
Located in Key West at SeaWorld, Dolphin Cove is a 700,000-gallon lagoon that is home to Atlantic bottlenose dolphins. This habitat is one of the largest interactive dolphin pools in existence and features two-foot high waves, a sandy beach and a naturalistic coral reef. At Dolphin Cove, park guests can feed the dolphins during designated times throughout the day. Be sure to visit Dolphin Cove Underwater Viewing for a glimpse into the magical underwater world of the Atlantic bottlenose dolphin. Here you can see Atlantic bottlenose dolphins swimming and frolicking with one another below the surface.

Stingray Lagoon, located at Key West at SeaWorld, is a 40,000-gallon habitat and one of the world's few such exhibits dedicated exclusively to stingrays. The habitat showcases up to 200 stingrays -- some spanning five feet in diameter -- and their guitarfish cousins. Here, guests may feed and even touch these graceful cartilaginous fish.
At Turtle Point in Key West at SeaWorld, guests can see endangered and threatened species of sea turtles. These prehistoric-looking reptiles reside in a natural lagoon complete with a beach, sand dunes and indigenous plant life. SeaWorld Orlando has rescued and rehabilitated more than 300 sea turtles, ranging from tiny hatchlings to 4-foot-long leatherbacks.
Rides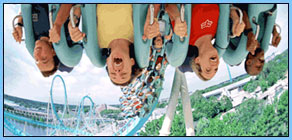 Kraken, the monster of all roller coasters, is the tallest and only floorless roller coaster in Orlando. It will take you to the heights of more than 140 feet and turn you upside down seven times, all at speeds reaching 65 mph. Named after a legendary sea monster, Kraken is a massive, mythological underwater beast that's unleashed from the depths of the sea. Riders' feet dangle as they sit on open-air, pedestal-like seats with nothing around them except shoulder restraints. There's no one to hold on to, nothing in front of them and nothing below them -- and only sky above.
Journey to Atlantis! Traveling on water and high-speed rails, you'll be chased by spirits who want to keep Atlantis -- and you -- for their own! You'll never know what's around the next corner or the next drop -- even when it's 60 feet, nearly straight down.
Your journey begins the moment you board one of two jet helicopters for an unforgettable, motion-based flight to a remote research station -- Base Station Wild Arctic. The panoramas are breathtaking, but the trip will be far from tranquil. High anxiety is sure to ensue when the pilot reacts to avoid dangerous Arctic hazards in his mission to deliver you safely to the research base before the impending snowstorm closes in.

Dining
Guests may choose from nine restaurants, ranging from full-service to cafeteria-style. Also, the nightly Aloha Polynesian Luau Dinner and Show" features traditional music, song, dance and food from the islands of Hawaii. Reservations are required.