Cool Off With Disney at Blizzard Beach or Typhoon Lagoon
There isn't a better way to get cool on a hot Florida day then to jump into the water. Blizzard Beach is one of Disney's amazing water parks. Themed like a ski resort this water park will keep you cool and wet all day long.
Blizzard Beach Attractions:

Summit Plummet -- No water park is complete without a 12 story slide. Summit Plummet will get you going upwards of 60 miles per hour as you fall 12 stores in a matter of seconds. There is no turning back after letting go of the handles. Summit Plummet is for teens, adults, and those big kids over 48 inches tall.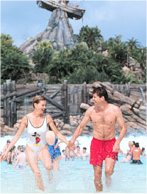 Ski Patrol Training Camp – This next attraction is for those who can't yet go on the bigger slides; Ski Patrol Training Camp is a fun time for all ages. Learn how to make your way across the camps pool. Ski Patrol trainees will have to walk across slippery ice chunks with only a overhead netting to grab ahold of. Ski Patrol Training Camp is a fun and exciting adventure and the only hazard is falling and belly flopping into the water a few feet below.
Cross Country Creek -- AKA the lazy river, you can spend hours on end simply floating around this slow moving river. Pick up a tube or go just float on your back the choice is yours. This creek is great for relaxing after lunch or for getting around the park. Hope in at any of the 7 entrances and get out of the other side of the park with minimal walking.
Teamboat Springs – Even wonder what it would be like to fit your whole family in a raft? well wonder no longer Teamboat is perfect for the whole family. With each raft will hold between 4 to 6 people, and carry them down the 1,200 foot long ride. Experience high banks, and fast drops this will be an exciting ride that your family will want to do over and over again. Just be careful because someone is going down the drop backwards and it just might be you!
Taboggan Racers – Grab a foam mat and get ready to race. This attraction can fit up to 8 people racing down the slide against one another. It's a great time for the whole family and anyone can ride. Find out who is the quickest in your family and you might be surprised to find out who the winner is.
Melt-Away Bay – This huge wave pool is a full acre of space; that is bigger than the yard I grew up in. This huge pool is a lot of fun and especially when the waves start rolling in. With the rolling waves reaching almost 6 feet high you will surly feel like you are at the beach. All heights are welcome to enjoy the relaxing waves.
Chair Lift – No ski resort would be complete without a chair lift. The Life will take you from the bottom of Mount Gushmore to the top where you will find attractions like Slush Gusher, Summit Plummet, and teamboat Springs. The Chair Lift is a great opportunity to get look at the park from a bird's eye view and to plan your next adventure.

Typhoon Lagoon Attraction:
This fun tropical water park is a great place to spend a hot summer day. Cool off with millions of gallons of water, a friendly staff, and the local wild life. Typhoon Lagoon has a wide variety of attractions to choose from ranging from an oversized wave pool to 5 story tall slides. Typhoon Lagoon is also the only water park that I know of where you can swim with sharks!
Shark Reef – This attraction is one of a kind. it lets guests snorkel in a giant salt water fish tank. Explore the ocean in a safe and controlled environment when you will have the chance to see reefs, sharks, and schools of tropical fish up close. This attraction can only be found a Disney's Typhoon Lagoon right here in Orlando Florida. If you would like to do more than snorkeling diving equipment is available for an extra charge.
Gang Plank Falls – Gang Plank Falls is a family ride that you can all enjoy at once. This four person inter tube flies down the 300 foot slide, banking high on corner and zig zaging all the way down to the bottom. Gang Plank Falls is a great family ride that you will want to ride time after time.
Castaway Creek – Its not a day at the water park unless you get to spend a few hours just relaxing on the water. Castaway Creek is a 2,000 foot long slow moving river that rinds around the park. Use Castaway Creek to relax or as transportation it has 5 entrances/exits and can be used to effortlessly move around the park.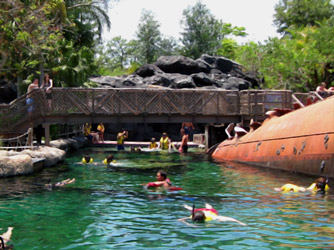 Humunga Kowagunga – Yeah try to say that 5 times fast… This 5 story tall feature has 3 high speed water slides. Each is completely enclosed and there is no light inside the tubes. Wizz down the 5 stores not knowing when the next turn is coming, are you brave enough to conquer all 3 of Humunga Kowaguga slides?
Storm Slides – Ever wanted to race your siblings down a mountain? Well here is your chance Storm sliders has 3 body slides that will let you race anyone you want down the mountain slide. Each slide is unique but has the same length to keep it fare. Take one of the 3 slides or go 3 times and try them all pick from the Jib jammer, Stern Burner, and the Rudder Buster. The Storm Sliders are great for big kids and adults alike visit Typhoon Lagoon today to try them out.
Mayday & Keelhaul Falls – Typhoon offers an abundance of tube slides. Mayday and Keelhaul falls are the children to Gang Plank falls. Each of the Falls rides offer a different experience each time. mayday and Keelhaul Falls both use single rider tubes for their adventure. Mayday falls is the longer of all the waterslides at Typhoon Lagoon, and Keelhaul has an abundance of turns to keep you spinning in circles the whole ride down.
Crush 'n' Gusher – Typhoon lagoon offers 3 multi rider rube rides besides Gang Plank Falls. These rides can take up to 3 people at once in a roller coast type fashion. The three rides ate Banana Blaster, Coconut Crusher, and Pineapple Plunger. Each of these 3 rides is about 400 feet long and takes you through hairpin turns, huge drops that will leave your stomach turning, and an excessive amount of water. The rides from Crush 'n' Gusher are some of the most popular at Typhoon Lagoon, be sure to hit them early before the lines get too long.