Orlando Nightlife
Orlando has a great Nightlife and at the center of it is downtown. Most of all the downtown Orlando nightlife is controlled and safe. With many great clubs and bars all within walking distance, the local law enforcement close off a few of the streets to make it safe to move between bars.

Night Life

Bar-B-Q bar: This is a local favorite with a great view of the main drag you can enjoy drinks sitting down inside or standing outside on the patio. Perhaps the most disappointing part of this bar is the fact that they do not serve bar b q despite their name. They do have a well stocked bar with inexpensive specialty drinks to chose from. There is also a great outside bar area in the heart of the bar with a dance floor and a live DJ playing the last popular hits and even some hits from the past. It's a great place to start out any night.
Latitude's: This club is a well kept secret and if you don't know about it you will probably just walk right on by. The front door is right next to another club but it's only a stair case with a small sign above it. After climbing up 3 stories which is always a chore and especially if you're a lady wearing heals. The climb is well worth it because when you reach the top it's a roof top club that stays nice and cool with the night breeze. This exclusive club is open to everyone and has great priced drinks and clean restrooms all throughout the club. It's decorated as a hut with torches around all of the bar for a good time.
The Lodge: The Lodge is a small but great place to go to and have a great time. This is the type of place you can walk into and spend a few minutes or spend hours. They have great Dj's and an amazing bartending staff. It has tasty specialty drinks at a low and relaxed price. The Lodge is themed like a winter ski lodge that you would see in the far north. It has moose heads and stuffed animals along the walls making it an interesting venue. It has a large dance floor but upstairs is the best place to be, you can look out over the entire club and see everyone having a great time. The only downfall of The Lodge has to be the bathrooms I would suggest hitting up bathrooms outside of the lodge before coming in.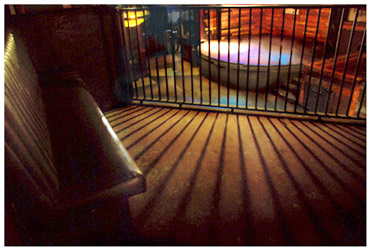 BackBooth: BackBooth is an extremely popular dance venue with a great dance floor powerful speakers and a cool lighting system. BackBook is a popular venue any night of the week. It has a old English pub like feel with dark wood and curtains that keeps it dim and inviting. This Venue has an assortment of different evens with each night being different. One of their most popular event is Footloose, this high intensity night features 80's music and dance videos. Its free to everyone 21 and up and also offers a free keg of PBR while it lasts. BackBooth offers great specials on drinks almost all night long and has a full bar stocked and never runs dry. Check out their website www.backbook.com to look at their calendar for a full listing of events.
Finnhenry's Public House: This is a downtown neighborhood bar located in the historic Angebilt building. This bar is also a great restaurant offering a full lunch menu with items ranging from hummus to a pulled pork sandwiches. With a great menu all lunch items at $7.51 and appetizers are only $6.57. Drinks however are Finnhenry's Specialty with an assortment of specialty drinks to choose from like the Salty Dog which is just three olive vodka and grape juice. No bar would be complete with a collection of interesting shots either be sure to they the Watermelon Jolly Ranger, Undertow, and the Key West Root Beer which you are enjoying the night.

Church Street Station is back!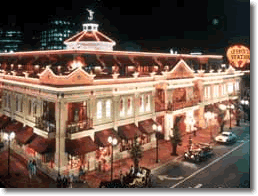 Church Street Station is an entertainment complex similar to Universal's CityWalk and Downtown Disney.
It was constructed around Orlando's original train station in downtown Orlando. The restored station along with old-fashioned bars like Rosie O'Grady's Good Time Emporium swelled in popularity until eventually a whole complex of restored buildings was created.

Like the major theme parks, the designers paid a lot of attention to detail and historical accuracy. The Train Depot is listed in the National Registry of Historic Places and contains numerous historical artifacts. The most impressive artifact is "Old Duke," a steam locomotive that was in the movie "Wings of Eagles" with John Wayne.

You pay a fee at the entrance to the complex and you are admitted to all the shows. Food and drinks are not included.

Besides bars, Church Street Station offers live entertainment, fine dining and the Church Street Exchange Shopping Emporium -- a three-story complex that has over 50 shops, restaurants and midway games.

Some of Church Street Station's more popular attractions:

Rosie O'Grady's Good Time Emporium -- Church Street Station's original bar. It evokes the feel of turn of the century San Francisco with a dark wood bar and brass fixtures. The two real draws at Rosie's are the Dixieland Jazz Revue (complete with bartop Can-Can girls) and a specialty drink called the Flaming Hurricane.

Phineas Phogg's Balloon Works -- This is where the 20- and 30-something tourist should go to dance the night away. Weekend nights are crowded with a good mixture of tourists and locals.

Cheyenne Saloon and Opera House -- This immense building is one of the staples of Church Street Station. Built inside a former opera house, the Cheyenne Saloon attracts a large crowd almost every night. It is spread out over three levels and is decorated with tons of Old West memorabilia.
These are just a few of the many great bars and clubs to visit while you are enjoying the great night life of Downtown Orlando.