Disney scores with golf courses

Not feeling like hitting a theme park? No problem. Disney offers a wide array of golf courses for all levels of play. Disney has 4 tour level courses to tee off on as well as a 9 hole curse. No matter what you are looking for Disney is sure to have the right golf course for you.
Disney Golf Courses:
Lake Buena Vista: Styled in a classic country club setting, the Lake Buena Vista course meanders through dense pine forests as well as the Resort's residential areas and is characterized by small, slightly elevated, well-bunkered greens that demand accurate shot-making. Lake Buena Vista is a tough course that has host PGA, LPGA, and USGA tours over the years making it a course worthy of even the best player. Lake Buena Vista also has state of the art golf carts. Each is equipped with GPS technology; this technology gives realistic view of the different holes to help you plot your next stroke.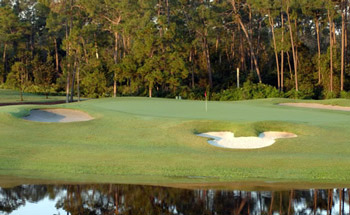 Osprey Ridge: The beautiful tropical wilderness surrounding Osprey Ridge may create a serene atmosphere, but it will challenge the player from the moment the first tee shot is hit. This beautiful golf course is also recognized as a certified Audubon Cooperative Wildlife Sanctuary. Osprey Ridge is also rated as a 4 ˝ stars by Golf Digest and seen as one of the best courses in all of Florida. Book your tee times early as space at this one of a kind course is limited. Like Lake Buena Vista, Osprey Ridge is also equipped with the same GPS technology to give your game the best edge.
Magnolia: The Magnolia is the longest of the Disney courses. Designed in classic Tour-style, the wide fairways invite you to hit the ball, and hit it hard! But beware—11 of the 18 holes boast water, and 97 bunkers dot the landscape and guard sizeable, undulating greens. Magnolia got its name from the numerous Magnolia trees the surrounded the greens. The trees fragrance can be caught all throughout the course. Disney's Magnolia is also home of the Children's Miracle Network Hospitals Classic. And as of 2012 it will be the 42nd time it has been played here.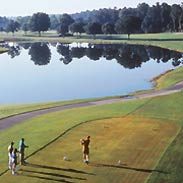 Palm: The natural beauty of the Florida woodlands makes the Palm not only a pleasure to play, but also one of Disney's toughest courses. 9 of the holes consist of water hazards and there are 94 total bunkers. Just when you thought you were clear Palm is named after the many placed palm trees. Some are there to keep on the green but many others are there to keep you off the green. Watch out because once your under one it can often times be hard to get out. Palm is rated as a 4 star course by Golf Digest making it another splendid course.

Oak Trail: Disney's 9-hole walking course Oak Trail is good for anyone who is seeking some exercise. With no paved walkways and no golf cars this curse is for getting out and enjoying the oak trees. Keep your eyes open to find the many natural wildlife in the area. Oak Trail is good for any level of player and a great starting place for a beginner. If you are looking for a place to teach your son or grand-son Oak Trail is the place. Oak Trail is a par 36 course and has a total yardage of 2,913.
Rentals: Disney offers a large pro shop to buy from but also offers a great selection of rentals for those traveling or just starting out. There are two different brands to rent from Tifleist Blubs, and Cobra. Each is $45 for men and women alike. Lessons are so available at $75 for adults and $50 for kids under 17.