Fast (and good) times at Daytona Beach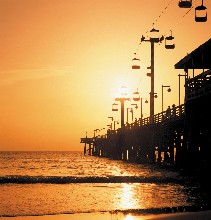 Think Daytona Beach and cars and beach come immediately to mind. Here the two meet to create a reputation for speed and good times.

The reputation began more than a century ago when car manufacturers tested and raced their horseless carriages on the hard-packed sands of Daytona Beach and neighboring Ormond Beach. In time, racing moved to Daytona International Speedway, home to the Daytona 500 each February.

The famous speedway also hosts other headline events such as the Pepsi 400 in July and the Rolex 24 in February. Even between races, fans can "feel the thunder" and excitement of racing on a tour of the track and by visiting DAYTONA USA. At this interactive attraction, surround-sound movies and other simulation lets visitors in on the racing sensation.

Downtown Daytona Beach, which is turning a historic area into a smart, attractive shopping and dining district, the Halifax Historical Museum traces the history of auto racing and Daytona. And although there's no racing on the wide beach today, Daytona Beach is one of the few places left in Florida where you can still drive on the beach. The pace is quite a bit slower these days, and portions are designated pedestrian-only. Upscale hotels are bringing Daytona Beach into the 21st century, but the scene is purely boardwalk-beach classic, with carnival rides around the Main Street Pier, watersports, golf cart rentals and surfing.

The best surfing is at quiet Ponce Inlet, where a salty village of casual restaurants and visitor attractions has gathered. Climb Florida's tallest lighthouse (and the second highest in the U.S.); the swirling 203 steps reward you with a stunning 360-degree view of the Atlantic and salt marshes of the Intracoastal. Around the lighthouse, a cluster of buildings explore different aspects of Daytona history. In the same neighborhood, the Marine Science Center opened recently to educate about mangrove and shoreline ecology and the plight of endangered sea turtles.

Other attractions in the Daytona Beach area balance beach fun and speed with nature and the arts. The Museum of Arts and Sciences contains the free world's largest Cuban art collection and an ancient giant sloth skeleton. The Seaside Music Theater stages professional stage entertainment. In Ormond Beach, Tomoka State Park is known for its canoeing and art museum. For a visit to sweet yesteryear, explore the area's past reputation for growing sugar at Bulow Plantation Ruins State Historic Site, near Ormond Beach, and Sugar Mill Botanical Gardens, with its dinosaur statues remnant of a former life as a theme park, south of Daytona Beach in Port Orange.



New Smyrna Beach harbors its own reminders of the era at New Smyrna Beach Sugar Mill Ruins. A drive-on beach like Daytona, New Smyrna Beach is quieter with the feeling of a historic hometown off the beach. Its Apollo Beach is part of the extensive Canaveral National Seashore that continues to the south, all-natural and minimally developed.

Inland, thriving and charming DeLand is the center of a world made from manatees, springs, unusual parks and the mighty St. Johns River. Blue Spring State Park in Orange City draws wintering manatees to its 72-degree spring waters. Hontoon Island State Park requires a shuttle to reach the river island for hiking, fishing and camping. De Leon Springs State Park, erstwhile site of a sugar plantation and later a health resort, is a fun place for a refreshing swim and a hearty flapjack breakfast that you make yourself at the Old Spanish Sugar Mill & Griddle House. In addition to all this nature, Lake Woodruff National Wildlife Refuge protects pine and hardwood forest and the birds and other wildlife it attracts.