Downtown Disney rocks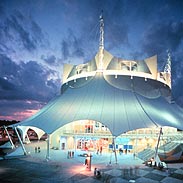 Downtown Disney is a great place for the family any time of the day. With great activities like DisneyQuest and spatacular shows like Cirque du Soleil you will never be bored.

A few of the Attractions are:

Cirque du Soleil -- La Nouba: This one of a kind acrobat event canít be seen anywhere else. Only at Downtown Disney will you find La Nouba. With over 70 highflying acrobat performers there is nothing else quite like it. La Nouba in English means ďto party, to live it upĒ and during the performance you will understand that its named correctly with bright colors and high energy itís a great show. Tickets for La Nouba at Cirque du Soleil start at $60 and run up to $130.
Hyperion Wharf Ė AKA --Pleasure Island: As of November 18,2012 Disney closed pleasure island and announced it was going to renovated and renamed Hyperion Wharf. Hyperion Wharf will be a massive dockside-themed shopping center with unique retail shows and fantastic places to dine. Hyperion Wharf will be the hit of Downtown Disney when it reopens, however at this time there is not a set date for the reopening of this hit feature.
DisneyQuest: Experience the first-ever indoor interactive Theme Park. It's a wildly imaginative wonderland featuring the highest of high-tech fun for kids and grownups. Shoot the rapids in a virtual prehistoric world. Hop into a simulator and ride a roller coaster that you design. Fly a magic carpet through an ancient city. Sail into the virtual world of the Pirates of the Caribbean. And record your own CD at Radio Disney Song Maker.
AMC Downtown Disney 24 Theatres Complex: The largest theater complex in the Southeast, with more than 6,000 seats. This exciting move theater also offers a special one of a kind dinner and a move experience. With the opportunity to be served while you watch a box office movie this will be enjoyable for the whole family. Be served from a wide menu with fresh ingredients, and a great selection of drinks ranging from a class of Coke to a $200 bottle of wine. The AMC has state of the art technology with the first ETX Theater in the united states. It has a 20% larger screen with 3D technology, 12 channels of audio, and true digital projection giving it a higher then HD resolution.
House of Blues: It's authentic Mississippi Delta cookin' spiced with live music every night, including blues, R&B, jazz, country, swingin' gospel, and more. Top artists perform in the music hall, while Sundays feature the inspiring Gospel Brunch performances. House of Blues is one of the only big venues in the Orlando area and because of it all sort of hit performers come from all over. The House of Blue sports a state of the art sound system to give even the largest crowds, its many speakers pump more then 10,000 watts of power into the crowd on any given night. Be sure to stop by the House of Blues restaurant as well. For great food ranging from Cajun Voodoo Shrimp to homemade banana bread.

Downtown Disney has an impressive collection of dining opportunities ranging from cookies to gourmet. A few of the popular stops to eat are right below.
Capín Jackís Restaurant Ė The best in seaford and American Capín Jackís is a water from restaurant with a panoramic view of the Buena Vista Lagoon. Jacks offers a full menu for the whole family with exciting an exciting collection ranging from burgers to a full array of fresh fish.
Planet Hollywood -- This is perhaps the most iconic sight at Downtown Disney. This star themed domed restaurant serves great American cuisine both lunch and dinner. This three tier restaurant servers food ranging from a BBQ sandwiches to New York Strip Steaks. Itís densely decorated with famous movie artifacts from all time periods.
Paradiso 37, Taste of the Americas -- Just like the name say Paradiso 37 is a water front restaurant severing popular cuisine from Alaska to Chili. This festive restaurant is a great place to bring the family or take that special someone. Meals range from $15 to $36 making an and affordable but great meal.
These are just a few of the restaurants at Downtown Disney, check them all 22 of them out in person any time of the year.